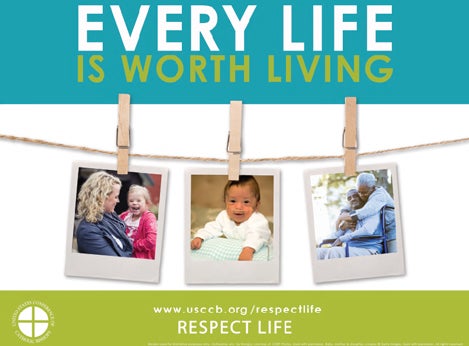 The Respect Life Program begins anew each year on Respect Life Sunday, the first Sunday in October, to call attention to numerous human life issues. Join us in prayer and action as together we work to protect the most vulnerable around us and work to bring the joy of the Gospel's life giving message.
"Every Life is Worth Living" Reflections for Respect Life Month, October 2015,
by Cardinal Seán P. O'Malley, O.F.M. Cap. Archbishop of Boston
Resources
9 Days for Life
9 Days for Life is a focused period of prayer, penance, and pilgrimage. Surrounding the anniversary of Roe v. Wade, this novena has as its overarching intention the end to abortion.
Children's Activities and Parent/Catechist Resources
This is a novena (a nine day prayer) that involves praying the Rosary.
Here is a link
to a guide to praying the scriptural Rosary.
This printable board game would be great for a neighborhood group or families who are home schooling.
Below are resources for your knowledge and background. The resources cover specific topics that you would, in most cases, not cover directly with younger children, but they can possibly help you better understand how and why we believe what we do.