Submitted by

rvaldez

on Tue, 04/14/2015 - 9:34am
.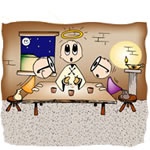 Schedule
Friday
6:00 pm - Registration, Hospitality
6:30 pm - Opening Prayer
9:30 pm - End of Day One
(no meals on Friday)
Saturday
8:00 am - Beginning of Day Two
12:30 pm - Lunch
5:15 pm - End of Day Two
Sunday
8:00 am - Beginning of Day Last Day
12:00 pm - Lunch
3:20 pm - End of Last Day
Next Retreat
Three sessions & one retreat
February 28 through March 23, 2019
@St. Francis de Sales
About Emmaus
Emmaus is the second course of the St. Andrew School of Evangelization and a further stepping-stone toward a solid foundation for all future courses. The objective of the course is to walk the path from Jerusalem to Emmaus with the Risen Christ, who makes your heart burn with the flame of the Scriptures; then to return from Emmaus to Jerusalem to proclaim the death and resurrection of Jesus the Lord.
Ideally participants of the Emmaus Retreat would have attended the New Life Retreat first as Emmaus builds on what was started during New Life. St. Francis de Sales plans to offer the New Life Retreat in the fall. Click here to learn more about New Life. If there is space, however, we will open the Emmaus Retreat to those who have not attended New Life. See the registration information for more details.
Schedule
Sessions:
Thursday, February 28
Thursday, March 7
Thursday, March 14
Retreat:
Saturday, March 23 - 8:00 am to 5:00 pm
Cost
We ask participants to offer a donation to help cover expenses toward the retreat to help defray costs for materials and retreat meals.
What to Bring
Each participant is asked to bring their own Bible. Food is included in the suggested donation.
Contact
For more information or if you have questions, please contact Craig Slachter at (616) 403-3462 or slachter@att.net or Ricardo Valdez at (616) 392-2474 or rvaldez@stfrancisholland.org.